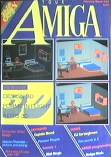 From: UK
Since: at least 1989
Published: Bimonthly
Status: R.I.P., last issue published ?
Infos and image provided by Eric Knust and image provided by Adam Smolarczyk. Thanks !

From issue Feb/March 89 (UK): Price: Pound Sterling 1.50, Argus Press Group, Cover produced with Design 3D.
Contents: Features: OTG DSM, Converting Graphics, Aegis 3D, Midi Magic, Software French Style, VIP(Viruscontrol), Amiga Vision, Printer Preference, PhotoLab, Precision Database, System Programmer's guide. Entertainment: Fusion, Sorcery Plus, Pioneer Plague, Legend of the Sword, Trivial Pursuit, Captain Blood, Chrono Quest. Programming: Amiga Basic, Library Code, First words in C, Assembly Language, CLI, Music on the Amiga, Data Maker, HAM Acting(how to use HAM). Regulars: Welcome, Amiga Update.

Overall: Semi-glossy, a fair amount of Ads (sometimes every second page), importance on programming, and a variety of games. Something for everybody.